20 T standing log splitter 400V/5500W electric motor with PTO (EHS20325)
With the EHS20325 log splitter with PTO from HZC Power you get a high quality wood splitter with electric drive. It is a sturdy model that can split material vertically and thus reliably helps you to produce firewood. The splitter is driven by an electric motor (400 V, 5500 W) and has a splitting power of up to 20t. An electronically operated wood splitter also produces little noise and no exhaust fumes.
With this model, the wood to be split can be up to 1000 mm high and 500 mm in diameter – this is enough for most pieces of wood that have been cut off with a saw before. Due to the weight of 325 kg, the machine stands safely, for all your splitting tasks. The log splitter stands on 2 wheels and can therefore be easily transported.
Angebot für Ihren Holzspalter
Bei HZC Power achten wir stets auf höchste Qualität, technisch einwandfreie Verarbeitung und eine robuste Konstruktion. Unsere Holzspalter erhalten Sie teilmontiert per Spedition. Eventuell muss das Hydrauliköl aufgefüllt werden - dieses liefern wir mit! Dabei bieten wir Ihnen einen Festpreis für den Versand der automatisch im Warenkorb generiert wird (zusätzliche Versandinformationen finden sie hier).
Gerne können Sie unsere Holzspalter nach Absprache auch in unserer Zentrale (Krefeld, NRW) oder an unserem Standort in der Nähe von Berlin (14542 Werder) besichtigen oder kostenlos abholen.
Sollten Sie weitere Fragen zu den einzelnen Modellen haben dann melden Sie sich gerne bei unserem Kundenservice. Dieser berät Sie gerne weiter. Überzeugen Sie sich selbst von unserem Angebot und sichern Sie sich Ihren Holzspalter in bester Qualität zum besten Preis bei HZC Power.
Manufacturer: HZC Power GmbH
Model: 20 t upright wood splitter 400V/5500W electric motor with power take-off (EHS20325)
splitting force: 20 t
Gap length: 1000 mm
Max. trunk diameter: 500 mm
Engine: electric motor, 400V, 5500W
Weight: 325 kg
Product dimensions: 1600x1370x2530 mm
Power connection: Heavy current
Forward speed: 20.5 cm/s (6.4 cm/s)
Return speed: 9.1 cm/s
Dimensions splitting wedge: 245x65x121 mm
Hydraulic oil capacity: 3.2Gal/12L
Hydraulic oil: HLP46
hydraulic pressure: 29 Mpa
Noise level: 97.9 dB
Engine speed: 1420 rpm
Protection class (IP): IP54
Protection class: Class I
Frequency: 50Hz
Rund um das Thema Holzspalter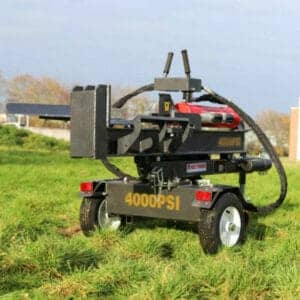 Spaltkreuze für Holzspalter
Durch ein Spaltkreuz wird das Holz nicht nur halbiert, sondern direkt geviertelt. So erreicht man schneller die notwendige Größe der geschnittenen Holzstücke für den ein oder anderen Kamin (mehr lesen).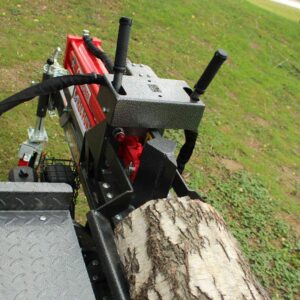 Spaltkraft beim Holzspalter
Was sagt eigentlich die Spaltkraft eines Holzspalters aus und wieviel Spaltkraft benötige ich für meinen Holzspalter? Welche Faktoren beeinflussen überhaupt die Spaltkraft? (mehr lesen)
Wieso einen Holzspalter kaufen?
Schauen Sie auch gerne in unserem HZC Power Magazin vorbei, dort erfahren Sie noch mehr zum Thema Holzspalter und erfahren noch mehr Tipps & Tricks. Informieren Sie sich z. B. hier über die Vorteile eines Kaufs von einem unserer Holzspalter.