25 t standing & lying log splitter with petrol engine and table (HS25205)
With the HS25205 from HZC Power you can split logs up to 600 mm long with a splitting force of up to 25 tonnes. One of the advantages of the HS25205 is that the splitter can be operated both vertically and horizontally.
The two-hand operation ensures safety. Nevertheless, the operation is practical and simple. The protective cover for the splitting area is a practical addition and also ensures that the machine remains in a very good condition for a long time.
Wood splitter with petrol engine
The log splitter is equipped with a reliable Briggs&Stratton gasoline engine (6.5 hp, XR950). The engine is equipped with 12.88 Nm gross torque and 208cc.
The maintenance/repair service set up by Briggs&Stratton in selected partner workshops provides uncomplicated help should problems arise with the powerful engine.
With this engine, the HS25205 brings enough power to split material confidently with the 200 mm high splitting wedge.
Wood splitter with petrol engine
The HS25205 can be operated both vertically and horizontally and is therefore very flexible. The conversion is quickly carried out by means of a simple release and a subsequent tilting mechanism.
An integrated frame ensures that the fissile material is held firmly in place during the splitting process in horizontal operation. Pieces of wood can also be stored on the integrated table. An oil filter for the hydraulic oil ensures an even longer life of the log splitter.
The splitter has a trailer coupling, so that it can be easily moved on private ground. However, the HS25205 is not road legal. Due to the handy dimensions of 228,5x101x120 cm (LxWxH) the log splitter can also be easily transported on a trailer.
Offer for your log splitter
At HZC Power we always pay attention to the highest quality, technically flawless processing and robust construction. You will receive our log splitters partially assembled by freight forwarding. Possibly the hydraulic oil must be filled up - we deliver this with! We offer a fixed price for shipping which is automatically generated in the shopping cart (additional shipping information can be found here).
You are welcome to visit our log splitters by appointment at our headquarters (Krefeld, NRW) or at our location near Berlin (14542 Werder) or pick them up for free.
If you have further questions about the individual models, please contact our customer service. This advises you gladly further. Convince yourself of our offer and secure your best quality log splitter at the best price at HZC Power.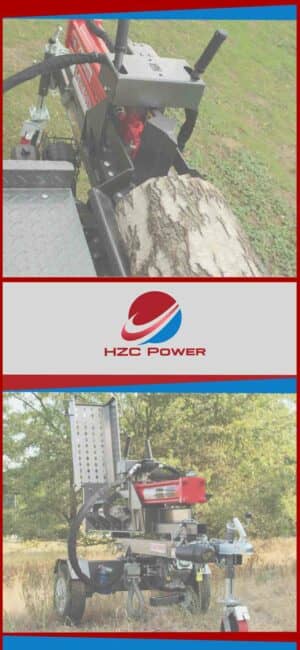 Manufacturer: HZC Power GmbH
Model: HS25205
Splitting force: 25 t
Gap length: max. 600 mm
Cycle: 15 s
Hydraulic oil capacity: 14 l (HLP46)
Product weight: 205 kg
Shipping Weight: 240 kg
Dimensions: 228,5x101x120 cm (LxWxH)
Special features: trailer coupling, storage table
Working positions: Horizontal or vertical
Operation: 2-handed
Engine: Briggs & Stratton 6.5 hp petrol engine, XR950
Model number: 130G
Engine technology: Single cylinder, 4-stroke, air-cooled, OHV (overhead valves)
Displacement: 208 cc
Cylinder: cylinder with cast iron sleeve
Drill hole: 68,3 mm
Bar: 55,9 mm
Fuel tank capacity: 3.1 l
Oil capacity: 0.6 l
Weight: 16 kg
Dimensions (WxLxH): 321x376x346 mm
Log splitter videos (HS25205)
Around the topic of log splitters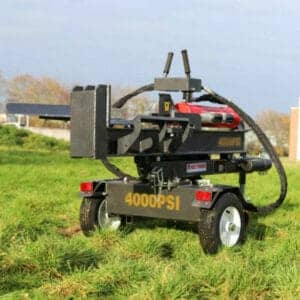 Splitting wedges for log splitters
Through a splitting cross, the wood is not only halved, but directly quartered. This allows you to more quickly achieve the necessary size of the cut pieces of wood for one or another fireplace (read more).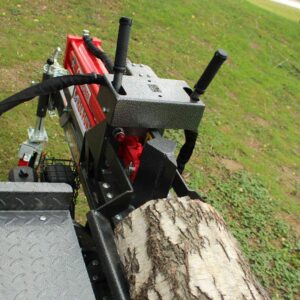 Splitting force for log splitter
What does the splitting force of a log splitter actually mean and how much splitting force do I need for my log splitter? Which factors influence the splitting force at all? (read more)
Please also take a look at our HZC Power Blog, where you can learn even more about the topic of log splitters and find out even more tips & tricks. For example, find out here about the advantages of buying one of our log splitters.