Mini excavator with chain drive, gasoline engine and adjustable undercarriage (BKB850K)
With the BKB850K from HZC Power, you always have the perfect all-rounder at your side. Why? The classic mini excavator with chain drive has a crawler undercarriage, the two chains are individually controllable . This makes the small excavator even more maneuverable and flexible to use. Inform now and buy directly online.
Furthermore, the powerful crawler excavator is driven by a reliable Briggs & Stratton gasoline engine, so that sufficient power is guaranteed.
Our excavator with chain drive BKB850K weighs approx. 850 kg, which makes it a classic mini excavator. Due to its compact size, it is very flexible and can also pass through narrow alleys and passages. The BKB850K thus also finds its place on smaller construction sites.
The dimensions of the excavator are 2550 x 900-1100 x 2160 mm (LxWxH). The crawler has the dimensions 1090 x 180 x 320mm (LxWxH). With these dimensions, the BKB850K can reach places that are difficult to access, as well as houses or small backyards. A hydraulically adjustable width adjustment of the crawler tracks ensures a firm stand.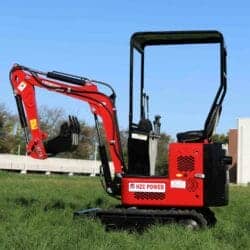 Equipment of the crawler excavator
The BKB850K is equipped as standard with a quick coupler for the excavator buckets so that a change can be made within one minute. This makes working with this all-rounder even more efficient and economical.
Hydraulic attachments can still be connected to an additional control unit on the excavator arm. Hydraulic accessories, on the other hand, must be attached without the quick coupler. You can find detailed instructions on our YouTube channel or request the PDF version from our customer service.
The seat can be rotated 360° and provides additional flexibility when excavating. The additional adjustable seat position and easily accessible operating levers further facilitate the use of the mini excavator. A hydraulically lowerable dozer blade rounds off the range for the mini-excavator.
Video of mini excavator (BKB850K)