Mini excavator with 4 wheels, gasoline engine & adjustable undercarriage (BVR600K)
The BVR600K is a 4 wheel excavator from HZC Power. The mini excavator has – instead of a classic crawler – 4 wheels and is therefore particularly gentle to the ground.
The undercarriage is width-adjustable, so that the mini excavator with wheels can be used flexibly. Furthermore, the powerful mini excavator is powered by a reliable Briggs & Stratton gasoline engine, so that sufficient power is guaranteed.
Angetrieben wird der leistungsstarke Allrounder mit einem Briggs&Stratton Benzinmotor (10 PS, Benzin, XR1450, 306 cc), sodass genügend Grab- und Hubleistung für Ihre Projekte vorhanden ist. Darüberhinaus weist der Motor einen Hydrauliköl-Kühler auf.
Zusätzlich bietet Briggs&Stratton  für den leistungsstarken Motor weltweit einen Wartungs-/Reparaturservice bei qualifizierten Partnerwerkstätten an.
Die Größe von 2300 x 1100 x 2140 mm (LxBxH) machen den BVR600K Minibagger mit Rädern  sehr kompakt und wendig, sodass er auf jeder kleinen Baustellen Platz finden kann. Weiterhin ist der kleine Bagger mit seiner Spurweite von 1100 mm und seinen vier Rädern ist sehr flexibel.  Enge Gassen und Wege kann er daher leicht passieren.å
The width adjustment of the wheels and additional supports ensure that the mini-excavator stands firmly on the target. The low ground pressure (max. 0.35 kgf/cm²) and the versatility enable work that is gentle on the ground. Especially in the garden, this can bring many advantages.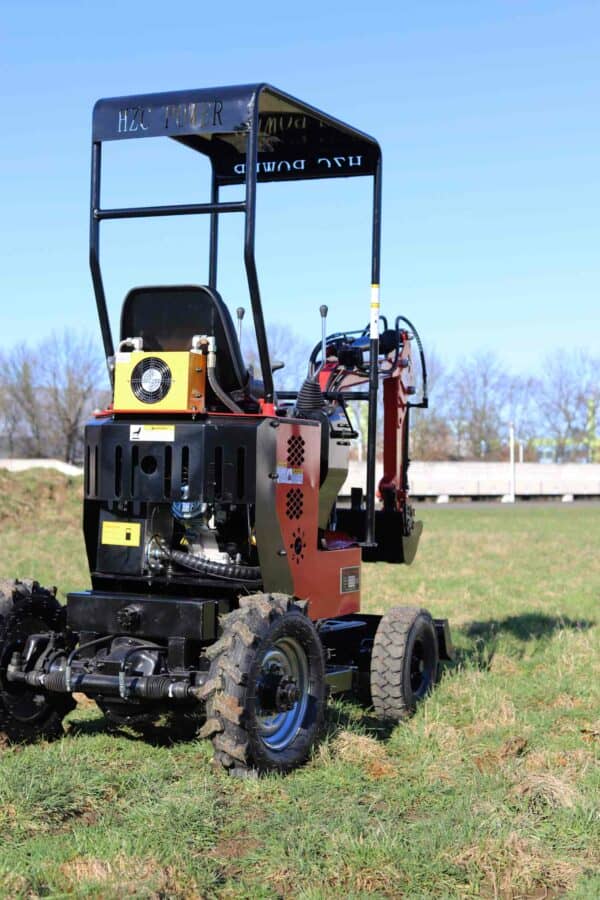 Features of the 4-wheel excavator
A quick coupler is also fitted as standard on the BVR600K, so that a change can be carried out within one minute. This makes working with the small excavator even more efficient and economical. Below you will also find our video, in which we demonstrate the quick coupler function as an example.
Furthermore, hydraulic attachments can be connected to an additional control unit on the excavator arm. In contrast to the standard bucket set, hydraulic accessories must be attached without the quick coupler. You can find detailed instructions on our YouTube channel or request the PDF version from our customer service. As hydraulic attachments, we carry both earth drills and a powerful caulking hammer. The latter is particularly suitable for chiseling up floor slabs, for example.
The seat of the wheeled excavator can be rotated 360° and therefore provides additional flexibility when excavating. The additionally adjustable seat position and easily accessible operating levers make using the mini excavator even easier. Likewise, the mini wheeled excavator has an hour meter, a seat belt and a small lighting as well as a foot mat. A hydraulically lowerable dozer blade rounds off the range of features for the mini wheeled excavator.
The mini excavator with wheels is also easy to operate due to its simple but efficient design, so that a great introduction is not necessary and with a little practice you can quickly start excavating. With the purchase, you will still receive a quick start guide for the excavator, so there will be no problems with delivery and the first operations. We will gladly deliver your mini excavator with wheels to you by forwarding agent – all at a fixed price.
Videos of the mini excavator (DKB880)