Wheel loader with 2500 kg rated load (HZC825)
The wheel loader from HZC Power is a versatile helper on the construction site, in the yard or in gardening and landscaping. By its high-quality processing, the simple operation the compact wheel loader is a perfect machine for the professional employment.
The HZC825 from HZC Power combines power with flexibility. The compact design with dimensions of 7100x2000x3050 mm make the wheel loader a flexible helper on your construction site. The 6-cylinder diesel engine impresses with its usual high quality and reliability. The maximum gradeability of the wheel loader is 30° and the maximum tractive force is 97 kN.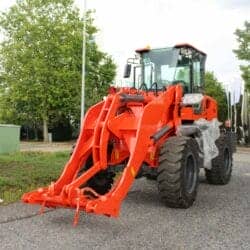 Our wheel loader is a practical and compact machine with a good price-performance ratio. The low construction of 3050 mm gives the loader flexibility in use and transport. The minimum turning radius is 5850 mm. With a maximum tipping reach of 1260 mm and a maximum dumping height of 3750 mm, the HZC825 provides optimal support, enabling efficient and effective work.
The wheel loader is equipped with a shovel as standard. The nominal capacity of the bucket is 1.5m3. The wheel loader has 4 forward and 4 reverse gears and reaches a maximum speed of 35 km/h.
During the development process of the wheel loader, the wishes and needs of our customers were taken into account. The result is a practical and compact machine that stands out for its reliability. Due to its design, the cab offers good all-round visibility, which ensures safety. Dangerous situations for persons and objects in the working area, as well as for the driver and machines can be quickly recognized and thus averted. The wheel loader works safely, reliably and delivers full performance in every operation.
The cabin convinces by a clear and simple arrangement of the operating elements and thus ensures easy handling. Drivers operating the machine for the first time are quickly familiar with its use, so that a short training period is sufficient to operate the HZC Power wheel loader. The HZC825 has a spacious cab with a rear view camera. This provides additional comfort and safety.
Offer for your HZC Power product
At HZC Power we always pay attention to the highest quality, technically flawless processing and robust construction. You will receive our products partially assembled by freight forwarding. We offer you a fixed price for shipping which is automatically generated in the shopping cart (additional shipping information can be found here).
You are welcome to visit our products by appointment at our headquarters (Krefeld, NRW) or at our location near Berlin (14542 Werder) or pick them up free of charge.
If you have further questions about the individual models then please contact our customer service. This advises you gladly further. Convince yourself of our offer and secure your product in the best quality at the best price at HZC Power.
Nominal load: 2500 kg
Total weight: 7550 kg
Nominal capacity of the bucket: 1.5 m3
Maximum tractive force: 97 kN
Maximum stripping force: ≥ 98 kN
Maximum climbing ability: 30°.
Maximum dumping height : 3750 mm
Maximum tilting range: 1260 mm
Overall dimensions: 7100×2000×3050 mm
Minimum turning radius: 5850 mm
Engine manufacturer: Weichai DEUTZ
Type: Inline arrangement, water cooling, four-stroke
Number of cylinders – bore – stroke: 6 – 108×125 mm
Nominal power: 92 KW – 2400 r/min
Maximum torque: 500 Nm
Minimum fuel consumption ratio: ≤ 215 g/kw.h
Torque converter: 280
Transmission: powershift transmission
Gear change: 4 forward gears, 4 reverse gears
Maximum speed: 35 km/h
Drive axles Main reduction spiral: Bevel gear grade 1 reduction
Deceleration mode: Planetary reduction, level 1
Wheelbase: 2930 mm
Wheel tread: 1660 mm
Minimum ground clearance: 430 mm
Operating pressure of the system: 16.5 MPa
Lifting time of the bucket: ≤ 6 s
Shovel fall time: ≤ 5 s
Total time for a single work cycle: ≤ 12.5 s
Automatic levelling function: Yes
Service brake: air via hydraulic disc brake on 4 wheels
Parking brake: manual parking brake
Type Specification: 17.5-25
Front tire pressure: 0.4 MPa
Rear tire pressure: 0.35 MPa