On 16.12.2020 we are moving to our new and larger office. For about two years you have found us at Europark Fichtenhain A 13a (side entrance) on the second floor. Due to our constant growth, our current premises were ultimately no longer able to keep pace. In order to be prepared for the future and to enable further continuous growth, we have therefore decided to move to new premises.
Fortunately, we can stay in the same building complex and will be located in Europark Fichenhain A 13b in the future. Our new office is therefore just around the corner from our previous location and is on the ground floor directly next to our warehouse (13a). The warehouse is also being enlarged by renovation work. This will enable us to move relatively quickly, which should be completed in the course of December.
You can reach us by phone, e-mail and fax at the existing numbers and addresses. Only during the move on 16 December 2020 will our availability be briefly limited, as we have to move our telephone system and network components. We look forward to working for you from our new premises and will be very happy to welcome you there in person after the move – and when the Corona restrictions allow it again.
We look forward to it,
Your HZC Power Team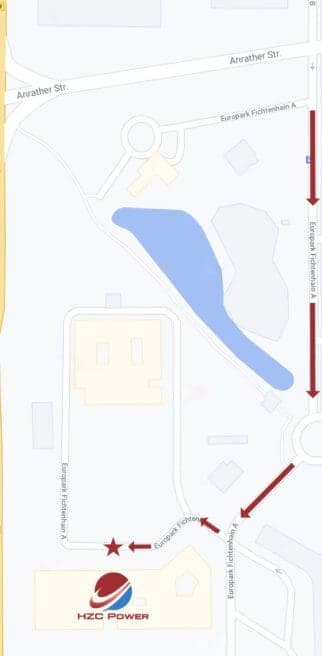 If you enter the Europark Fichtenhain A industrial estate from Anrather Straße, follow the road until you reach the roundabout. Leave the roundabout at the first exit. Then take the next sharp right – past the entrance to Sirius Park on the right – and follow the road a little further. On the left-hand side you will see our loading ramps (warehouse) and directly next to them our new office.
We are looking forward to meeting you!