Buy Shredder/Chipper for Softwood & Hardwood with Gasoline Engine (SR60)
The SR60 shredder from HZC Power shreds wood and shredded material with a knife system that retracts the material itself. This ensures a pleasant working environment. The knife system allows both soft and hard wood to be shredded easily. Shredding reduces the volume of your cut material by up to 75%, which makes it easy for you to dispose of or further process. The composted shredded material often contains valuable nutrients and thus saves costs for additional fertiliser.
The 6.5 HP Briggs&Stratton engine with horizontal shaft is robust, reliable and efficient. The engine is equipped with 28.48 Nm gross torque and 208 cc. Briggs&Stratton's maintenance/repair service in selected partner garages provides uncomplicated assistance should problems arise with the powerful engine. The motor drives the blades so that hard and soft wood is shredded quickly and effectively.
The large handle and tyres make it easy to move the shredder. Due to the similar construction of a wheelbarrow, transport over longer distances is also easily possible. For longer distances, transport on a trailer or in a sufficiently large boot is suitable. Based on its size, the garden shredder can be easily accommodated there. Because it is powered by a petrol engine, the shredder can be used anywhere as long as a safe stand is guaranteed. This ensures complete flexibility in use.
Offer for your HZC Power product
At HZC Power we always pay attention to the highest quality, technically flawless processing and robust construction. You will receive our products partially assembled by freight forwarding. We offer you a fixed price for shipping which is automatically generated in the shopping cart (additional shipping information can be found here).
You are welcome to visit our products by appointment at our headquarters (Krefeld, NRW) or at our location near Berlin (14542 Werder) or pick them up free of charge.
If you have further questions about the individual models then please contact our customer service. This advises you gladly further. Convince yourself of our offer and secure your product in the best quality at the best price at HZC Power.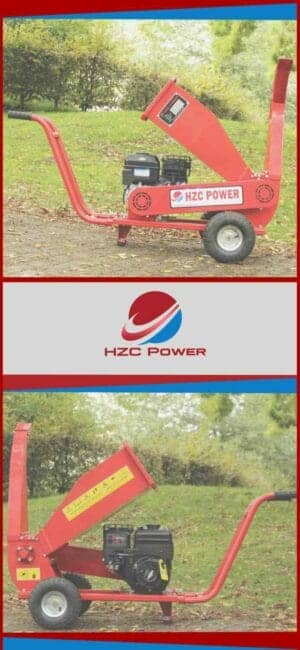 Model: SR60
Manufacturer HZC Power
Max. Speed: 3300 r/m
Number of blades per shaft: 2
Max. number of knives trunk thickness: 40 mm
Packaging dimensions: 1600x680x1600 mm
Weight: 80 kg
Shipping weight: 90 kg
Engine: Briggs & Stratton 6.5 hp petrol engine, XR950
Model number: 130G
Engine technology: Single cylinder, 4-stroke, air-cooled, OHV (overhead valves)
Displacement: 208 cc
Cylinder: cylinder with cast iron sleeve
Drill hole: 68,3 mm
Bar: 55,9 mm
Fuel tank capacity: 3.1 l
Oil capacity: 0.6 l
Weight: 16 kg
Dimensions: 321x376x346 mm