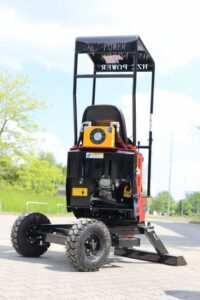 A swimming pond is to be built in the garden of the family home? Your house needs a new terrace or a small summer cottage is to be built in the allotment garden? In principle, the help of machines is needed for the garden, the house construction itself or renovations. To do the work with hand tools such as a shovel is simply too heavy and time consuming. There is however also no broad access road to their building sites…
Perfect when things get tight
A mini-excavator is suitable for precisely such situations. The small all-rounders are narrow and fit through narrow alleys, yet they are powerful and versatile.
Our popular BKB851K (mini excavator with gasoline engine) and DKB881 (mini excavator with diesel engine) models are only 90 cm wide, allowing them to work unhindered on narrow construction sites and pass through narrow alleys. Their undercarriage can be extended to 110 cm, ensuring a firm footing.
Mini excavator are small excavators, which are frequently used in garden and landscape gardening or on smaller building sites. So it is possible to work inside buildings – into which other machines would not fit. Digging trenches, e.g. for pipelines and digging ponds, pools and streams. In addition, hills can easily be filled up and uneven surfaces can be straightened. Despite their compact design, the mini excavators are up to many tasks. With their over 10 HP strong engines they have sufficient digging and lifting power. Mini excavator are available with chain drive and a petrol or diesel engine as well as a 4-wheel excavator or walking excavator.
In addition to their basic equipment (e.g. hydraulically lowerable dozer blade, articulated blade, LED lighting and rotating cab), many of our mini excavator have a quick-change system for the mini-excavator attachments. This makes the mini excavators even more flexible in use. For example, the roots of an old tree are difficult to remove with pure muscle power. A mini excavator solves this problem quickly and efficiently: With the ripper tooth larger roots can be pulled and with the excavator shovels the soil can be freed from the smallest root branches.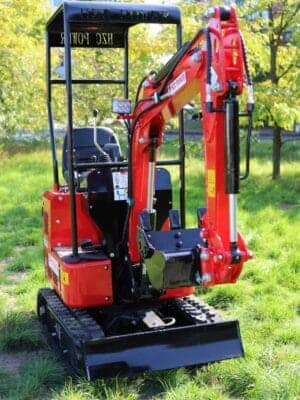 A new garden path or the foundation for a new garden shed before the first frost is just as quickly excavated with the standard shovel and straightened with the dozer blade. A hydraulic hammer helps to remove old wall remains and concrete. The mini excavator always provides valuable services and saves the do-it-yourselfer a lot of time on his construction site.
An excavator with compact dimensions is ideal for working in confined spaces or passing through narrow access roads and can support you in many ways on your construction site.