30 t horizontal log splitter with petrol engine & log lifter (HS30290)
Firewood for the winter – everyone with a fireplace, stove heating or a fireplace knows the problem: Ready firewood is expensive and the work with axe, hammer and splitting wedge is incredibly exhausting and sweaty. We have the solution for this, because our horizontal log splitter with petrol engine and 30 t splitting force makes the work immensely easier.
The HS30290 log splitter from HZC Power has a splitting force of up to 30 t and splits good up to a length of 600 mm. Furthermore, the splitter has a log lifter, which further facilitates the work. Furthermore, an integrated frame ensures that logs do not fall off the horizontal log splitter. Finally, the two-hand operation ensures the safety of your hands.
Holzspalter mit Benzinmotor
Ausgestattet ist der liegende Holzspalter mit einem verlässlichen Briggs&Stratton Benzinmotor. Der Motor ist mit 12,88 Nm Brutto-Drehmoment und 208 cc ausgerüstet. Ein Ölfilter für das Hydrauliköl sorgt für eine noch längere Lebensdauer.
Der von Briggs&Stratton eingerichtete Wartungs-/Reparaturservice in ausgewählten Partnerwerkstätten hilft unkompliziert, sollte es doch mal zu Problemen mit dem leistungsstarken Motor kommen.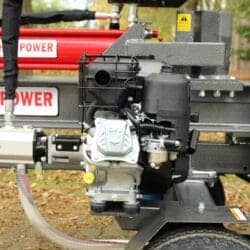 Bei einem liegenden Holzspalter wird das Holz auf einen waagerechten Spalttisch gelegt. Das Spaltmaterial wird anschließend von der Druckplatte horizontal in den spitzen Spaltkeil gedrückt und damit zerteilt. Der Spaltisch kann beim HS30290 hydraulisch – je nach Bedarf – hoch- und runtergefahren werden. Für den Spaltvorgang müssen beide Hebel (Zweihand-Bedienung) bedient werden, jedoch fährt der Spaltkeil automatisch beim loslassen der Hebel zurück.
Der liegende Holzspalter weist eine Spaltkraft von 30 t auf und zerteilt Spaltgut bis zu einer Länge von 600 mm. Die Länge des Spaltguts eignet sich meistens sehr gut für den Kamin oder eine Brennholzstelle und kann bei Bedarf natürlich reduziert werden.
Der Spalter verfügt über eine Anhängerkupplung, sodass er leicht auf dem Hof umgestellt werden kann. Allerdings weißt der HS30290 keine Straßenzulassung auf. Aufgrund der handlichen Maße von 230 x 101 x 119,5-174,3 cm (LxBxH) lässt sich der Holzspalter auch gut auf einem Anhänger transportieren.
Angebot für Ihren Holzspalter
Bei HZC Power achten wir stets auf höchste Qualität, technisch einwandfreie Verarbeitung und eine robuste Konstruktion. Unsere Holzspalter erhalten Sie teilmontiert per Spedition. Eventuell muss das Hydrauliköl aufgefüllt werden - dieses liefern wir mit! Dabei bieten wir Ihnen einen Festpreis für den Versand der automatisch im Warenkorb generiert wird (zusätzliche Versandinformationen finden sie hier).
Gerne können Sie unsere Holzspalter nach Absprache auch in unserer Zentrale (Krefeld, NRW) oder an unserem Standort in der Nähe von Berlin (14542 Werder) besichtigen oder kostenlos abholen.
Sollten Sie weitere Fragen zu den einzelnen Modellen haben dann melden Sie sich gerne bei unserem Kundenservice. Dieser berät Sie gerne weiter. Überzeugen Sie sich selbst von unserem Angebot und sichern Sie sich Ihren Holzspalter in bester Qualität zum besten Preis bei HZC Power.
Model: HS30290
Manufacturer: HZC Power
Splitting force: 30 t
Gap length: max. 600 mm
Cycle: 15 s
Hydraulic oil capacity: 14 l (HLP46)
Product weight: 290 kg
Shipping weight: 325 kg
Product dimensions: 230x101x119.5-174.3 cm (LxWxH)
Special features: trunk lifter (up to 80 kg), trailer coupling
Working positions: Horizontal
Operation: 2-handed
Engine: Briggs & Stratton 6.5 hp petrol engine, XR950
Model number: 130G
Engine technology: Single cylinder, 4-stroke, air-cooled, OHV (overhead valves)
Displacement: 208 cc
Cylinder: cylinder with cast iron sleeve
Drill hole: 68,3 mm
Bar: 55,9 mm
Fuel tank capacity: 3.1 l
Oil capacity: 0.6 l
Weight: 16 kg
Dimensions (WxLxH): 321x376x346 mm
Rund um das Thema Holzspalter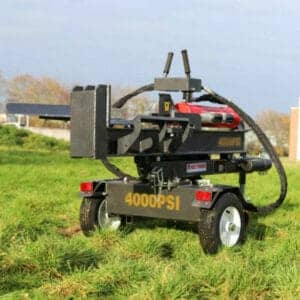 Spaltkreuze für Holzspalter
Durch ein Spaltkreuz wird das Holz nicht nur halbiert, sondern direkt geviertelt. So erreicht man schneller die notwendige Größe der geschnittenen Holzstücke für den ein oder anderen Kamin (mehr lesen).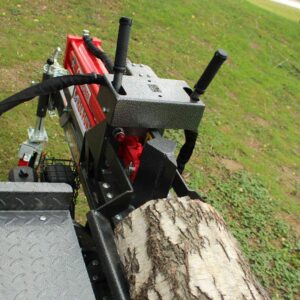 Spaltkraft beim Holzspalter
Was sagt eigentlich die Spaltkraft eines Holzspalters aus und wieviel Spaltkraft benötige ich für meinen Holzspalter? Welche Faktoren beeinflussen überhaupt die Spaltkraft? (mehr lesen)
Wieso einen Holzspalter kaufen?
Schauen Sie auch gerne in unserem HZC Power Magazin vorbei, dort erfahren Sie noch mehr zum Thema Holzspalter und erfahren noch mehr Tipps & Tricks. Informieren Sie sich z. B. hier über die Vorteile eines Kaufs von einem unserer Holzspalter.