40 ton standing & lying log splitter with petrol engine & table (HS40285)
With the HS402855 wood splitter with table from HZC Power you can split logs up to 530 mm long with a splitting force of up to 40 tons. One of the advantages of the HS40285 is that the splitter can be operated both standing and lying. Inform now and buy your log splitter safely & conveniently online.
The log splitter is powered by a reliable Briggs&Stratton gasoline engine. The two-hand operation ensures your safety, yet the operation is practical and simple.
Buy log splitter with gasoline engine
The powerful log splitter is powered by a powerful Briggs&Stratton gasoline engine (13.5 hp, XR2100). Thereby Briggs&Stratton multi-purpose horizontal shaft engines are robust, reliable and efficient.
The engine is rated at 28.48 Nm gross torque and 420 cc. If a problem does occur, Briggs&Stratton offers maintenance/repair service worldwide at qualified partner workshops.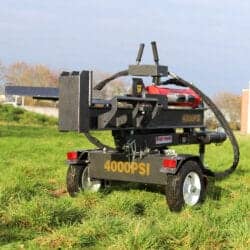 Buy Standing & Lying Log Splitter
The HS40285 can be operated both vertically and horizontally, making it very flexible to find the right place and position in any location and for any split material. Conversion is quick thanks to a simple release and a tilting mechanism.
Pieces of wood can be stored on the integrated table during work. An oil filter for the hydraulic oil ensures even longer life, so splitting your firewood is assured.
The wood splitter with table & petrol engine has a trailer hitch so it can be easily moved around the yard. However, the HS40285 does not have road approval. Due to the handy dimensions of 219 x 101 x 119 cm (LxWxH), the log splitter can be easily transported on a trailer. Still questions? Then please contact our customer service. Otherwise, you can also buy your log splitter directly from our online store.
Angebot für Ihren Holzspalter
Bei HZC Power achten wir stets auf höchste Qualität, technisch einwandfreie Verarbeitung und eine robuste Konstruktion. Unsere Holzspalter erhalten Sie teilmontiert per Spedition. Eventuell muss das Hydrauliköl aufgefüllt werden - dieses liefern wir mit! Dabei bieten wir Ihnen einen Festpreis für den Versand der automatisch im Warenkorb generiert wird (zusätzliche Versandinformationen finden sie hier).
Gerne können Sie unsere Holzspalter nach Absprache auch in unserer Zentrale (Krefeld, NRW) oder an unserem Standort in der Nähe von Berlin (14542 Werder) besichtigen oder kostenlos abholen.
Sollten Sie weitere Fragen zu den einzelnen Modellen haben dann melden Sie sich gerne bei unserem Kundenservice. Dieser berät Sie gerne weiter. Überzeugen Sie sich selbst von unserem Angebot und sichern Sie sich Ihren Holzspalter in bester Qualität zum besten Preis bei HZC Power.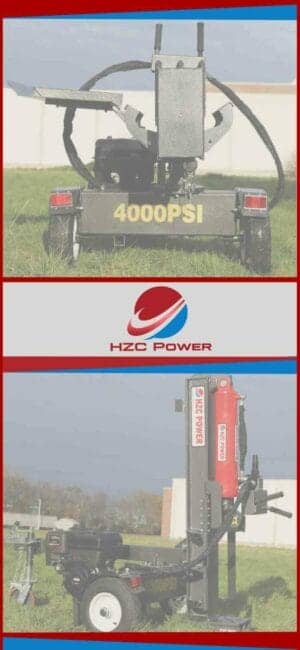 Model: HS40285
Manufacturer: HZC Power
Splitting force: 40 t
Gap length: max. 530 mm
Cycle: 15 s
Hydraulic oil capacity: 20 l (HLP46)
Product weight: 285 kg
Shipping weight: 321 kg
Product dimensions: 219x101x119 cm (LxWxH)
Special features: trailer coupling, storage table
Working positions: Vertical and horizontal
Operation: 2-handed
Engine: Briggs & Stratton 13.5 hp petrol engine, XR2100
Model number: 25T2
Engine technology: Single cylinder, 4-stroke, air-cooled, OHV (overhead valves)
Displacement: 420 cc
Cylinder: cylinder with cast iron sleeve
Drill hole: 90 mm
Cycle: 66 mm
Fuel tank capacity: 6.6 l
Oil capacity: 1.1 l
Weight: 31 kg
Dimensions (WxLxH): 499x370x443 mm
Rund um das Thema Holzspalter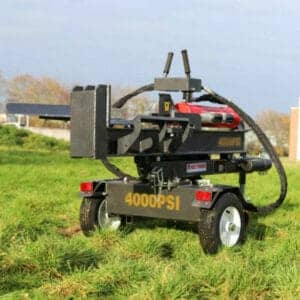 Spaltkreuze für Holzspalter
Durch ein Spaltkreuz wird das Holz nicht nur halbiert, sondern direkt geviertelt. So erreicht man schneller die notwendige Größe der geschnittenen Holzstücke für den ein oder anderen Kamin (mehr lesen).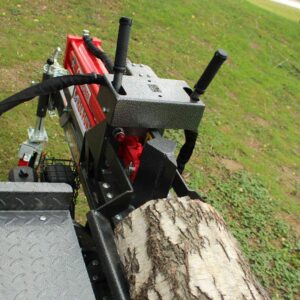 Spaltkraft beim Holzspalter
Was sagt eigentlich die Spaltkraft eines Holzspalters aus und wieviel Spaltkraft benötige ich für meinen Holzspalter? Welche Faktoren beeinflussen überhaupt die Spaltkraft? (mehr lesen)
Wieso einen Holzspalter kaufen?
Schauen Sie auch gerne in unserem HZC Power Magazin vorbei, dort erfahren Sie noch mehr zum Thema Holzspalter und erfahren noch mehr Tipps & Tricks. Informieren Sie sich z. B. hier über die Vorteile eines Kaufs von einem unserer Holzspalter.