9 t upright wood splitter with 400V/4300W electric motor (EHS09225)
With the EHS09225 from HZC Power you get a high quality wood splitter with electric drive. It is a sturdy entry-level model with which splitting material can be split vertically and thus provides reliable assistance in firewood production. The splitter is driven by an electric motor (400 V, 4300 W) and has a splitting force of up to 9 t. An electronically operated wood splitter also produces little noise and no exhaust fumes.
With this model, the wood to be split can be up to 1000 mm high and 400 mm in diameter – this is sufficient for most pieces of wood that have previously been cut off with a saw. Due to the weight of 225 kg, the machine stands securely, even when powerfully cutting thick and heavy wood. The log splitter stands on 2 wheels and can therefore be easily transported.
Offer for your log splitter
At HZC Power we always pay attention to the highest quality, technically flawless processing and robust construction. You will receive our log splitters partially assembled by freight forwarding. Possibly the hydraulic oil must be filled up - we deliver this with! We offer a fixed price for shipping which is automatically generated in the shopping cart (additional shipping information can be found here).
You are welcome to visit our log splitters by appointment at our headquarters (Krefeld, NRW) or at our location near Berlin (14542 Werder) or pick them up for free.
If you have further questions about the individual models, please contact our customer service. This advises you gladly further. Convince yourself of our offer and secure your best quality log splitter at the best price at HZC Power.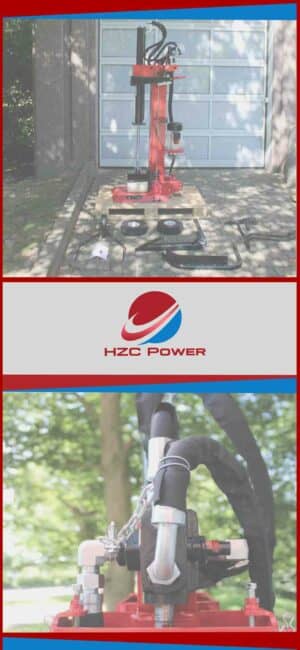 Modell: 9 t stehend Holzspalter mit 400V/4300W Elektromotor (EHS09225)
Spaltkraft: 9 Tonnen
Spaltlänge: 1000 mm Max.
Stammdurchmesser: 400 mm
Motor: Elektromotor, 400V, 4300W
Gewicht: 225 kg
Produktmaße: 1420x1350x2520 mm
Stromanschluss: Starkstrom
Vorlaufgeschwindigkeit: 27,1 cm/s (5,2cm/s)
Rücklaufgeschwindigkeit: 6,1 cm/s
Maße Spaltkeil: 226x65x121 mm
Hydraulikölkapazität: 2,9Gal/11L
Hydrauliköl: HLP46
Hydraulikdruck: 23,5 Mpa
Lärmpegel: 97,9 dB
Motordrehzahl: 1420 rpm
Schutzart (IP): IP54
Schutzklasse: Klasse I
Frequenz: 50Hz
Lieferung: Per Spedition
Around the topic of log splitters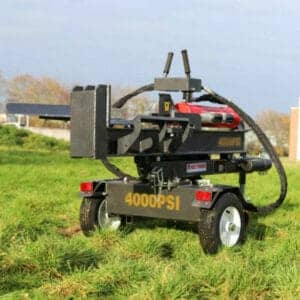 Splitting wedges for log splitters
Through a splitting cross, the wood is not only halved, but directly quartered. This allows you to more quickly achieve the necessary size of the cut pieces of wood for one or another fireplace (read more).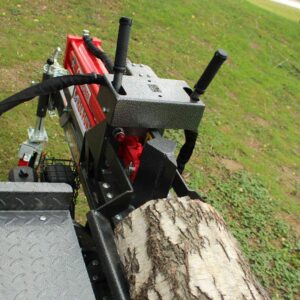 Splitting force for log splitter
What does the splitting force of a log splitter actually mean and how much splitting force do I need for my log splitter? Which factors influence the splitting force at all? (read more)
Please also take a look at our HZC Power Blog, where you can learn even more about the topic of log splitters and find out even more tips & tricks. For example, find out here about the advantages of buying one of our log splitters.