It's slowly getting autumnal and the days are getting shorter again. As much as I love summer, I'm also looking forward to the first really warming open fire in the spooky rainy weather outside.
But it's exactly for this cosy fire that you need enough firewood. And in some cases that sounds easier or more expensive than you think. Of course, you can buy ready-made firewood and have it delivered to you. But depending on the quantity, this can quickly become expensive. Therefore, it is worth considering making your own firewood.
Basically, there are two possibilities. Firstly, wood can be split manually with hard work, time and effort. Either with a splitting wedge or with an axe. Either way, we recommend quite a bit of fitness if you want it to be more than a fire.
Using a good log splitter not only speeds up the process immensely, but it is also much less strenuous and easier on the back. The logs are split with a splitting wedge until they reach the desired size.
Translated with www.DeepL.com/Translator (free version)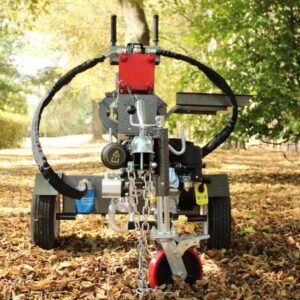 In the medium to long term, a splitter can definitely pay for itself, depending on the amount of wood. Especially with proper maintenance and use, the machine will last a long time in good condition and can be used for many years.
Our HZC Power log splitters can be used in the private & domestic sector for the extraction of firewood for fireplaces as well as in the industrial or commercial sector, e.g. in sawmills or for timber extraction.
Regardless of the motorisation (our log splitters all feature a petrol engine), a log splitter can be vertical or horizontal. In this article, we will focus on the horizontal variant.
Advantages and disadvantages of horizontal log splitters or horizontal log splitters:
With horizontal log splitters, the logs are split horizontally. To do this, the log is lifted onto the splitting jig. This is done either by hand or by means of a hydraulic lifting device (log lifter), such as our 40 t horizontal log splitter (HS40335). The logs placed there are then pressed against the splitting plate by the horizontally moving splitting wedge and thus split.
The split wood either falls directly onto the ground or can also be conveniently taken from the splitting device. Some models (e.g. HS40285) also have an integrated table on which pieces can be temporarily stored.
One of the great advantages is the comfortable working height of the equipment and the easy positioning of the logs on the splitting device. A disadvantage may be that the logs have to be transported to the height of the horizontal log splitter. As already mentioned, a hydraulic support can help here.
Nevertheless, every horizontal log splitter reaches its limits when the diameter of the log is too large. Depending on the splitting device, however, the maximum diameter may vary. Nevertheless, horizontal log splitters are more suitable for logs that are not too thick. For normal household use and private firewood or general medium-thickness diameters, however, the advantages of horizontal log splitters are not to be sneezed at:
Because of their more compact size, horizontal log splitters are easier to store and also quicker to operate, as you only need to start the motor and start splitting straight away. With upright log splitters, they often have to be properly assembled or tilted first. Likewise, the horizontal log splitter can be moved more quickly and easily via a trailer hitch.
HZC Power log splitters
One of the biggest advantages of the HZC Power log splitters is that they can be used both as standing and lying log splitters. A simple tilting mechanism quickly transforms the horizontal log splitter into a standing one. This means that if thicker logs are unexpectedly cut, this is no longer a problem. For example, our bestseller HS30244 log splitter with 30 t splitting force allows exactly this flexibility.
Our 22 t log splitters with a splitting length of up to one metre are also very popular. Because these do not even have to be changed manually. The change from standing to lying works via a hydraulic position adjustment, so that this work can also be carried out in a way that is easy on the back.
If you have any questions about our individual models, please have a look at the descriptions of the desired products or simply call our customer service. We look forward to hearing from you.