Walking excavator / 2-wheel mini excavator with gasoline engine (BZR520K)
v
Der BZR520K ist ein Schreitbagger aus dem Hause HZC Power. Der Minibagger besitzt – anstatt einem klassischen Kettenfahrwerk – 2 Räder und ist damit besonders in schwierigen Verhältnissen praktisch.
Somit ist der Schreitbagger  besonders flexibel auf schlammigen und matschigem Boden einsetzbar. Weiterhin wird der leistungsstarke Minibagger mit einem zuverlässigen Briggs & Stratton Benzinmotor angetrieben, sodass ausreichend Leistung gewährleistet ist.
Aufgrund der kompakten Größe ist der BZR520K sehr flexibel und kann auf kleineren Baustellen Platz finden. Dabei betragen die Maße des Schreitbaggers 2300 x 940-1300 x 2140 mm (LxBxH). Für einen festen Stand des Minibaggers sorgen eine Weitenverstellung (Spurweite: 940-1300 mm) der ausziehbaren Räder und zusätzliche Stützen.
Hervorragend geeignet ist dieser Mini-Schreitbagger zum Baggern von Gräben und zum Abtragen von Grasnarben an schwer zugänglichen Orten.
Walking excavator with gasoline engine
Angetrieben wird der leistungsstarke Allrounder mit einem Briggs&Stratton Benzinmotor (10 PS, Benzin, XR1450, 306 cc), sodass genügend Grab- und Hubleistung für Ihr Projekt vorhanden ist. Weiterhin weist der Motor einen Hydrauliköl-Kühler auf.
Sollte es trotz des qualitativ hochwertigen Motors zu Problemen mit diesem kommen, bietet Briggs&Stratton einen Reparaturservice an. Diese befinden sich an vielen Standorten weltweit bei qualifizierten Partnerwerkstätten.
Der Schreitbagger weist eine Grabtiefe von 1358 mm auf. Des Weiteren beträgt die Reichweite am Boden 1750 mm. Darüberhinaus hat er eine Überladehöhe von 2140 mm. Insgesamt macht das den Schreitbagger zu Ihrem perfekten Begleiter auf Ihrer schwer zugänglichen Baustelle.
Equipment of the 2-wheel excavator
Ein Schnellwechsler ist beim BZR520K serienmäßig verbaut, sodass ein Wechsel innerhalb einer Minute durchgeführt werden kann. Dies macht das Arbeiten mit dem kleinen Bagger noch effizienter und wirtschaftlicher.
An einem zusätzlichen Steuergerät am Baggerarm können weiterhin hydraulische Aufsätze angeschlossen werden. Hydraulisches Zubehör muss hingegen ohne den Schnellwechsler angebracht werden. Hierzu finden Sie ausführliche Anleitungen auf unserem YouTube Kanal. Fordern Sie alternativ gerne die PDF-Variante bei unserem Kundenservice an.
Der Sitzplatz ist um 360° drehbar und sorgt für zusätzliche Flexibilität beim baggern. Die zusätzlich verstellbare Sitzposition und gut erreichbare Bedienhebel erleichtern die Nutzung des Minibaggers weiterhin. Ein hydraulisch absenkbares Planierschild rundet das Angebot für den Minibagger ab.
Angebot für Ihren Minibagger
Bei HZC Power achten wir stets auf höchste Qualität, technisch einwandfreie Verarbeitung und eine robuste Konstruktion. Unsere Minibagger erhalten Sie fertigmontiert per Spedition. Dabei bieten wir Ihnen einen Festpreis für den Versand der automatisch im Warenkorb generiert wird (zusätzliche Versandinformationen finden sie hier).
Gerne können Sie unsere Minibagger nach Absprache auch in unserer Zentrale (Krefeld, NRW) oder an unserem Standort in der Nähe von Berlin (14542 Werder) besichtigen oder kostenlos abholen.
Sollten Sie weitere Fragen zu den einzelnen Modellen haben dann melden Sie sich gerne bei unserem Kundenservice. Dieser berät Sie gerne weiter. Überzeugen Sie sich selbst von unserem Angebot und sichern Sie sich Ihren Minibagger in bester Qualität zum besten Preis bei HZC Power.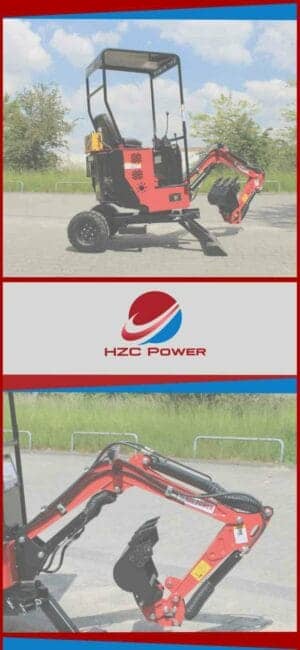 Manufacturer: HZC Power GmbH
Model: BZR520K
Engine: Briggs&Stratton (10 PS, gasoline, XR1450, 306 cc)
Fuel tank capacity: 6.5 litres
Engine cooling: hydraulic oil radiator
Electric starter: 12 Volt
Maximum gradeability: 25°.
Oil tank capacity: 19 litres (HLP46)
Hydraulic pump: Gear pump
Working pressure: 160 Bar
Maximum pressure: 210 bar
Hydraulic flow: 30 litres per minute
Digging depth: 1358 mm
Overloading height: 2140 mm
Reach on the ground: 1750 mm
Bucket stripping force: 1300 kg
Tearing force handle: 560 kg
Dimensions: 2300 x 940-1300 x 2140 mm (LxWxH)
Product/shipping Weight: 520 kg
Track gauge: 940-1300 mm
Max. Train speed: 15 km/h
Mini excavator BZR520K
375 mm excavator bucket (BBS375)
Walking excavator (BZR520K)
videos
Exklusives Zubehör für unsere Minibagger
Das Demuda Smart-Ladegerät SLM10 für Batterien eignet sich für alle unsere Minibagger und viele weitere Produkte mit Starter-Batterien.
Unsere extra breite Grabenschaufel unterstützt Sie optimal beim Ausheben bei lockerem Untergrund.
Der hydr. Abbruchhammer ist ideal für den Abbau oder Aufbruch geeignet und kann an alle HZC Power Bagger angeschlossen werden.
Verladeschiene / Rampe / Laderampe mit 4t Traglast (RA4000) aus hochwertigem Aluminium. Höchstgewicht pro Rampe sind 2000 kg.