Mini excavator with chain drive, diesel engine & adjustable undercarriage (DKB880)
A great support on any construction site is our HZC Power Mini Excavator DKB880 with diesel engine. With its 11 HP engine, the small excavator becomes a reliable all-rounder.
The DKB880 has a classic crawler chassis. The two tracks can each be controlled individually and make the excavator even more flexible.
The DKB880 from HZC Power provides optimum support on your construction site. Due to its compact size, the DKB880 is very flexible and can pass through narrow alleys and find space on smaller construction sites.
The dimensions of the excavator are 2550 x 900-1100 x 2330 mm (LxWxH). The crawler chassis has the dimensions 1090 x 180 x 320 mm (LxWxH) and can therefore be used almost anywhere.
Nevertheless, the DKB880 fulfils the tasks of removal, demolition, transport or lifting as well as other tasks in a sovereign way, according to its size. A hydraulically adjustable width adjustment of the crawler track units ensures a firm footing here.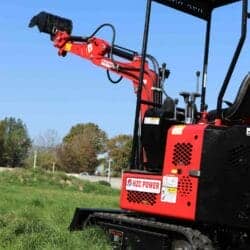 Equipment of the crawler excavator
A quick coupler is fitted as standard on the DKB880, so that a change can be carried out within a minute. This makes working with this small excavator even more efficient and economical.
Hydraulic attachments can still be connected to an additional control unit on the excavator arm. Hydraulic accessories, on the other hand, must be attached without the quick coupler. You can find detailed instructions on our YouTube channel or request the PDF version from our customer service.
The seat can be rotated 360° and provides additional flexibility when excavating. The additional adjustable seat position and easily accessible operating levers further facilitate the use of the mini excavator. A hydraulically lowerable dozer blade rounds off the range for the mini-excavator.
Videos of the mini excavator (DKB880)