Mini Excavator with pivoting arm,chain drive, diesel engine & adjustable undercarriage (DKB881)
A great support on any construction site is our HZC Power wxcavator with pivoting arm DKB881. With its 11 HP engine, the small excavator becomes a reliable all-rounder. The DKB881 has a classic crawler chassis. The two tracks can each be controlled individually and make the excavator even more flexible. As a supplement to the DKB880, the DKB881 has a swivelling excavator arm.
The DKB881 from HZC Power supports you optimally on your construction site. Due to its compact size, the DKB881 is very flexible and can also pass narrow alleys and find space on smaller construction sites.
The dimensions of the excavator with pivoting arm are 2550 x 900-1100 x 2330 mm (LxWxH). The crawler chassis has the dimensions 1090 x 180 x 320 mm (LxWxH) and thus comes to almost any place.
Nevertheless, according to its size, the DKB881 fulfills the tasks of removal, demolition, transport or lifting as well as other tasks sovereign. A hydraulically adjustable width adjustment of the crawler tracks ensures a firm footing.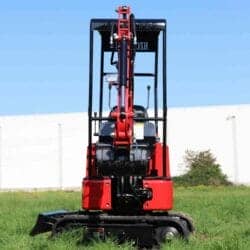 Diesel Engine Mini Excavator
The powerful all-rounder is driven by a Changchai diesel engine (11 HP), so that sufficient digging and lifting capacity is available for your project.
With a digging depth of 1650 mm, a reach at ground level of 2400 mm and a loading height of 2610 mm make this excavator your perfect all-rounder. The working pressure is 160 bar.
As a special highlight, the DKB881 has a pivoting excavator arm (articulated – 120°), so that an even larger area can be covered during excavation without having to move the mini-excavator. This is because the articulation system allows the excavator arm to be swiveled 60° to the left and right, thus extending the working radius.
Equipment of the excavator with pivoting arm
A quick coupler is fitted as standard on the DKB881, so that a change can be carried out within a minute. This makes working with this small excavator even more efficient and economical. Hydraulic attachments can still be connected to an additional control unit on the excavator arm.
Hydraulic attachments can still be connected to an additional control unit on the excavator arm. Hydraulic accessories, on the other hand, must be attached without the quick coupler. You can find detailed instructions on our YouTube channel or request the PDF version from our customer service.
The seat can be rotated 360° and provides additional flexibility when excavating. The additional adjustable seat position and easily accessible operating levers further facilitate the use of the mini excavator. A hydraulically lowerable dozer blade rounds off the range for the mini-excavator.
Angebot für Ihren Minibagger
Bei HZC Power achten wir stets auf höchste Qualität, technisch einwandfreie Verarbeitung und eine robuste Konstruktion. Unsere Minibagger erhalten Sie fertigmontiert per Spedition. Dabei bieten wir Ihnen einen Festpreis für den Versand der automatisch im Warenkorb generiert wird (zusätzliche Versandinformationen finden sie hier).
Gerne können Sie unsere Minibagger nach Absprache auch in unserer Zentrale (Krefeld, NRW) oder an unserem Standort in der Nähe von Berlin (14542 Werder) besichtigen oder kostenlos abholen.
Sollten Sie weitere Fragen zu den einzelnen Modellen haben dann melden Sie sich gerne bei unserem Kundenservice. Dieser berät Sie gerne weiter. Überzeugen Sie sich selbst von unserem Angebot und sichern Sie sich Ihren Minibagger in bester Qualität zum besten Preis bei HZC Power.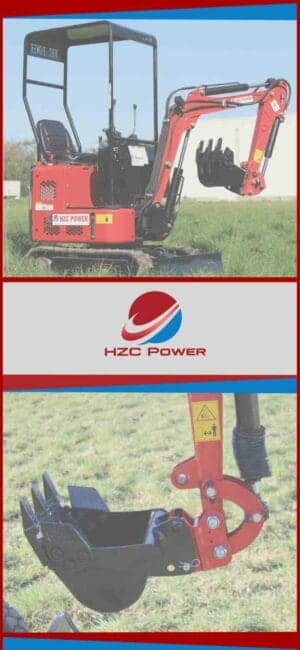 Manufacturer: HZC Power GmbH
Model: DKB881
Engine: Diesel Changchai 11 PS
Max. torque: 25 Nm
Max. speed: 3600 r/min
Digging force: 5,5 kN
Fuel tank capacity: 6.5 litres
Electric starter: 12 Volt
Maximum gradability: 25°.
Maximum speed: 2 km/h
Ground pressure: 0,35 kgf/cm²
Dimensions crawler trolley: 1090 x 180 x 320 mm (LxWxH)
Oil tank capacity: 17 litres (HLP46)
Swivel radius: 360°.
Swivel speed: 13 r/min
Hydraulic pump: Gear pump
Working pressure: 160 Bar
Maximum pressure: 210 bar
Hydraulic flow: 30 litres per minute
Digging depth: 1,650 mm
Overloading height: 2,610 mm
Reach at ground level: 2,400 mm
Dimensions: 2550 x 900-1100 x 2330 mm (LxWxH)
Product/shipping Weight: 880 kg
Special features: folding mechanism (120°), hydraulically adjustable chassis
Videos of mini excavator with diesel engine (DKB881)
Exklusives Zubehör für unsere Minibagger
Das Demuda Smart-Ladegerät SLM10 für Batterien eignet sich für alle unsere Minibagger und viele weitere Produkte mit Starter-Batterien.
Unsere extra breite Grabenschaufel unterstützt Sie optimal beim Ausheben bei lockerem Untergrund.
Der hydr. Abbruchhammer ist ideal für den Abbau oder Aufbruch geeignet und kann an alle HZC Power Bagger angeschlossen werden.
Verladeschiene / Rampe / Laderampe mit 4t Traglast (RA4000) aus hochwertigem Aluminium. Höchstgewicht pro Rampe sind 2000 kg.