Electric wheelbarrow up to 230 kg payload from Landworks (ES230)
Mit der ES230 erhalten Sie eine elektrische Schubkarre mit einem robusten Gestell und einem leistungsstarken Elektromotor (500 W). Die drei Ballonreifen machen ein Anheben der Schubkarre nicht mehr nötig, sodass ein Transport von unterschiedlichsten Materialien mühelos und schnell möglich ist.
Thanks to the electric motor, the electric wheelbarrow is quiet and does not emit any exhaust fumes. Therefore it is also ideal for closed rooms, e.g. stables. The wheelbarrow has a forward gear (max. 5 km/h) and a reverse gear (max. 3.5 km/h). The electric wheelbarrow easily copes with a gradient of up to 10 degrees.
Equipment of the motor wheelbarrow
The spacious tub of the electric wheelbarrow can hold up to 230 kg of hay, garden waste, construction debris or other materials. However, due to the motorization, this weight is easily transportable for you – without any effort of your own. The dimensions of the wheelbarrow trough can be taken from the sketch (data in mm) or the technical data. Approx. 90 liters fit into the tub itself (upper edge). With a tipping angle of 90 degrees, emptying is also very reliable.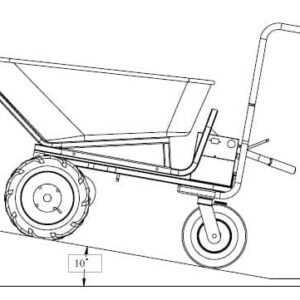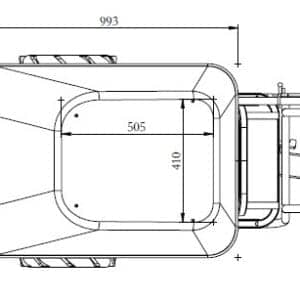 Angebot für Ihr HZC Power Produkt
Bei HZC Power achten wir stets auf höchste Qualität, technisch einwandfreie Verarbeitung und eine robuste Konstruktion. Unsere Produkte erhalten Sie teilmontiert per Spedition. Dabei bieten wir Ihnen einen Festpreis für den Versand der automatisch im Warenkorb generiert wird (zusätzliche Versandinformationen finden sie hier).
Gerne können Sie unsere Produkte nach Absprache auch in unserer Zentrale (Krefeld, NRW) oder an unserem Standort in der Nähe von Berlin (14542 Werder) besichtigen oder kostenlos abholen.
Sollten Sie weitere Fragen zu den einzelnen Modellen haben dann melden Sie sich gerne bei unserem Kundenservice. Dieser berät Sie gerne weiter. Überzeugen Sie sich selbst von unserem Angebot und sichern Sie sich Ihr Produkt in bester Qualität zum besten Preis bei HZC Power.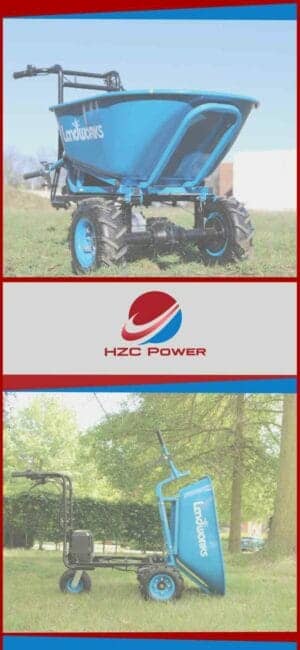 Hersteller: Landworks / HZC Power
Modell: ES230
Antrieb: Elektrischer Antrieb, 48V DC/ 500 W
Batterie: 48 V, 2x 2 Ah, 336 Wh (ca. 1,5-2h Betrieb möglich)
Vorwärtsgang: 1 Vorwärtsgang (max. 5 km/h)
Rückwärtsgang: 1 Rückwärtsgang (max. 3,5 km/h
Ladefähigkeit: 230 kg
(=Zuladung bei 17% bzw. 10 Grad Steigung): 230 kg
Füllmenge: ca. 90 l
Abmessungen Lademulde (unten): 41 x 50,5 cm (L x B)
Abmessungen Lademulde (oben): 99,3 x 64,5 cm (L x B)
Bodenfreiheit vorne: 60,8 cm
Bodenfreiheit hinten: 30,1 cm
Antrieb der Mulde: manuell
Kippwinkel: 90°
Bremssystem: mechanisch
Versand: per Spedition
Electric wheelbarrow videos (ES230)