Electric wheelbarrow up to 230 kg payload from Landworks (ES231)
With the ES231 from Landworks, you get an electric wheelbarrow with a robust frame and a powerful electric motor (500 W). The three balloon tyres eliminate the need to lift the wheelbarrow, making it easy and quick to transport a wide range of materials.
Thanks to the electric motor, the electric wheelbarrow is quiet and does not emit any exhaust fumes. Therefore it is also ideal for closed rooms, e.g. stables. The wheelbarrow has a forward gear (max. 5 km/h) and a reverse gear (max. 3.5 km/h). The electric wheelbarrow easily copes with a gradient of up to 10 degrees.
Equipment of the motor wheelbarrow
Up to 230 kg of hay, garden waste, construction debris or other materials fit into the spacious mesh box of the electric wheelbarrow. However, due to the motorization, this weight is easily transportable for you – without any effort of your own. The dimensions of the grid box can be taken from the technical data or the sketch (this is the inner edge length). Another advantage of the electric wheelbarrow with mesh box is that the side parts are removable. This allows a wide range of applications during transport. With a tipping angle of 90 degrees, emptying is also very reliable.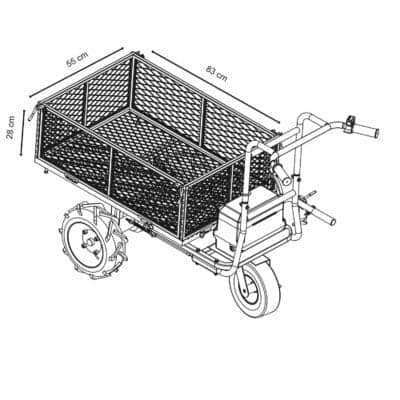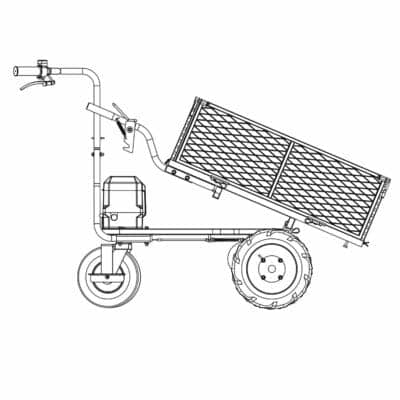 Angebot für Ihr HZC Power Produkt
Bei HZC Power achten wir stets auf höchste Qualität, technisch einwandfreie Verarbeitung und eine robuste Konstruktion. Unsere Produkte erhalten Sie teilmontiert per Spedition. Dabei bieten wir Ihnen einen Festpreis für den Versand der automatisch im Warenkorb generiert wird (zusätzliche Versandinformationen finden sie hier).
Gerne können Sie unsere Produkte nach Absprache auch in unserer Zentrale (Krefeld, NRW) oder an unserem Standort in der Nähe von Berlin (14542 Werder) besichtigen oder kostenlos abholen.
Sollten Sie weitere Fragen zu den einzelnen Modellen haben dann melden Sie sich gerne bei unserem Kundenservice. Dieser berät Sie gerne weiter. Überzeugen Sie sich selbst von unserem Angebot und sichern Sie sich Ihr Produkt in bester Qualität zum besten Preis bei HZC Power.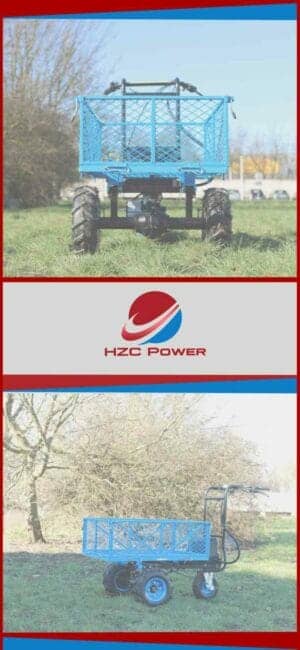 Manufacturer: Landworks
Model: ES231
Drive: Electric drive, 48V DC/ 500 W
Battery: 48 V, 2x 2 Ah, 336 Wh (approx. 1.5-2h operation possible)
Forward gear: 1 forward gear (max. 5 km/h)
Reverse gear: 1 reverse gear (max. 3.5 km/h)
Loading capacity: 230 kg
dimensions of the grid box – inner edge (L x W x H): 83 x 55 x 28 cm
dimensions of the box pallet – outer edge (L x W x H): 87 x 64 x 28 cm
(=load at 17% or 10 degree incline): 230 kg
Drive of the trough: manual
Tipping angle: 90
Brake system: mechanical
Shipping: by forwarding agency