What to start with when planning and creating your new garden? Is it a completely new garden or an existing one? Either way, you probably want to create a retreat – a place for well-being or self-realization. There are as many different gardens as there are different people: A play area for children with a sandbox and slide, a small & intricate garden with lots of clay pots and herbs, or a spacious garden with lots of flowers, a large garden pond and many places to rest. But all these gardens have one thing in common: a basic idea.
That's why we recommend (carefully) sifting through the garden first and measuring it if possible. Also pay attention to the position of the sun and the resulting shadows, as well as slopes and, if possible, soil conditions. Then work out your dream garden on paper.
Both in new buildings (where the garden resembles an overgrown steppe) and in rented or purchased houses with gardens (here it is more like the good old jungle with moss and weed meadows), first of all, the soil must be brought up to scratch and unwanted other elements removed. It may even be worthwhile to completely re-loosen, straighten and roll the area.
In the process, weeds and old sod should be collected and disposed of so that they do not find their way back to the surface. In addition, it is important that we enrich the soil with an organic amendment such as mulch. Mixing it with the existing soil will re-enrich it so that future plants can grow well.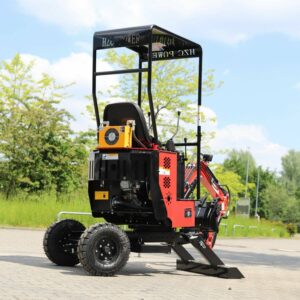 A great support for this work can be our mini-excavators or our tillers. Roots and tree stumps can be completely removed with the help of our stump grinder. And for disposing of anything that is no longer wanted in the garden, our ES230 and ES231 electric wheelbarrows can be a great help. Because they have an electric motor, this makes them generally very easy to transport and ensures back-friendly work.
The pruning and trimming of trees & shrubs
Besides the soil, the most noticeable feature of a neglected green space is the condition of the trees and shrubs. Over time, they have grown wildly and may overhang their property line if necessary. In our article "All about pruning" you will find many helpful tips for the correct pruning of trees and shrubs.
You can process the resulting green cuttings directly with our shredders and use them sustainably in your own garden. Cleanly shredded material can make a beautiful covering for paths in the garden. The shredded material can also be used on flower beds and make it harder for weeds to take hold. In our blog article "Shredding and what you should look out for" you will learn many helpful tips & tricks around the topic of shredding.
After pruning, you should check the health of the trees and shrubs. Because if you discover a fungus or any other kind of pests you need to act immediately. Timely elimination of pests in the garden is the key to returning our nature to a healthy state.
Der englische Rasen oder die wilde Wiese
If you have excavated the entire ground, then you will not get around a complete reseeding of the lawn. A popular alternative is now the installation of sod. No matter which method you choose: Pay attention to the different types of turf and adapt it to your garden (sun, shade, soil type, water requirements…).
If you have only roughly cleared the previous lawn of debris, it is recommended to mow the lawn thoroughly – you are completely independent of electricity with a lawn mower with gasoline engine – and to view the area. Besides the poor appearance, there are often two problems:
On the one hand, the spread of weeds that have killed even the grass seeds. On the other hand, fungi in certain areas of the garden. In addition to these two aspects, an unkempt lawn will always have soil compaction and nutrient deficiency.
Therefore, you should then use the appropriate means to eliminate the weeds and fungi. Thorough scarification of the area can help. Scarifying helps to enrich the soil with oxygen and eliminate unwanted plants. After this work, there is nothing like a top dressing before you reseed the lawn. The soil needs nutrients to be the ideal cradle for our new grass.
Construction projects in the garden
Construction projects also regularly occur in the garden. Both are demolitions as with an old shed or the dismantling of an old terrace conceivable. Here, too, our mini-excavators can provide you with optimum support in the form of grapples, trench shovels, hydraulic earth drills or hydraulic caulking hammers. Our mini excavators are suitable for this purpose as they can move and work efficiently in small areas. Their width-adjustable undercarriage allows them to fit through many garden gates and reach every corner.
Are you planning to build a swimming pool or a hot tub in your garden? Also, for the future goldfish pond or a huge swimming pond, the mini excavator can be a great help in digging the required areas.
Get ready to beautify your garden!
We sincerely hope that you will succeed in transforming your garden into the garden of your dreams. Good luck!