Crosscut saw / table saw / miter saw / circular saw with laser S6 1700W (KS0680)
The table saw KS0680 is optimally suited for sawing wood, coated panels and plastics. The integrated laser allows to control the sawing process at any time and enables precise working. The saw blade with a diameter of 210 mm and 24 teeth allows a versatile use of the saw. The crosscut saw can be set at different angles to make versatile saw cuts.
The saw has an idle speed of 5200 rpm (revolutions). The turntable is equipped with a precise angle adjustment for inclined cuts. In addition, a clamping device is integrated which serves to fix the workpiece firmly. Due to its compact dimensions, the KS0680 also fits into smaller workshops and hobby rooms. The integrated collection bag for the accumulating sawdust always ensures a clean workplace. The compact, lightweight design and the carrying handle make the unit easy to transport.
Angebot für Ihr HZC Power Produkt
Bei HZC Power achten wir stets auf höchste Qualität, technisch einwandfreie Verarbeitung und eine robuste Konstruktion. Unsere Produkte erhalten Sie teilmontiert per Spedition. Dabei bieten wir Ihnen einen Festpreis für den Versand der automatisch im Warenkorb generiert wird (zusätzliche Versandinformationen finden sie hier).
Gerne können Sie unsere Produkte nach Absprache auch in unserer Zentrale (Krefeld, NRW) oder an unserem Standort in der Nähe von Berlin (14542 Werder) besichtigen oder kostenlos abholen.
Sollten Sie weitere Fragen zu den einzelnen Modellen haben dann melden Sie sich gerne bei unserem Kundenservice. Dieser berät Sie gerne weiter. Überzeugen Sie sich selbst von unserem Angebot und sichern Sie sich Ihr Produkt in bester Qualität zum besten Preis bei HZC Power.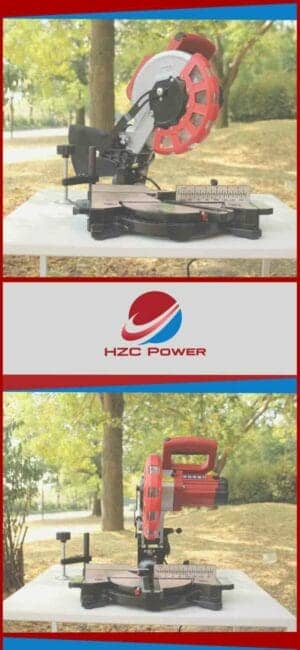 Manufacturer: HZC Power GmbH
Model: Chop saw/table saw/pull saw/ mitre saw/circular saw with laser S6 1700W (KS0680)
Idle speed: 5200 rpm
Nominal power input S1: 100% 1400W
Nominal power input S6: 25% 1700W
Voltage: 220-240 V
Frequency: 50 Hz
diameter saw blade: 210 mm
Teeth: 24
Dimensions: 530×34,50×310 mm
Weight: 6,8 kg
Cable length: 2 m
Maximum cross sections of the workpieces
.
0°/90°: 60×115 mm
0°/45°: 60×80 mm
45°/45°:25×115 mm
45°/90°: 25×80 mm