After a lot of gardening work in autumn – e.g. hedge trimming – a lot of cuttings and waste accumulates in the garden. Shredders provide a practical service for the subsequent shredding of the plant waste and thus create space and order again particularly quickly. They can reduce the volume of the cut by up to 70%.
The shredder is not only efficient, but also sustainable! They support the eco-system in the long term because organic waste can still be used in the garden. The cuttings can be composted by shredding and thus form nutrient-rich soil that can be used for future planting. In addition, the shredded material can be used as mulch and thus fulfil a variety of tasks.
When using a shredder, there are a number of things you should be aware of to ensure safe and secure use.
During work, suitable clothing should be worn. We recommend clothes made of a robust and resistant material. Work gloves protect your hands against minor injuries, e.g. thorns on branches and splinters of wood. Safety goggles protect against splinters flying around. You should also make sure that you wear suitable footwear for a secure stand and protective headgear. Our knife shredders are about as loud as a petrol lawnmower. Hearing protection is therefore recommended during work and prevents later hearing damage. Not recommended are items of clothing that can easily get caught, such as long scarves.
Gardens are usually not flat and often have slight slopes and inclines. To ensure that the garden shredder works properly and can be shredded safely, it should be placed on a firm and level surface. Otherwise the vibrations during work can quickly lead to the shredder standing unsteadily. The wheels of the HZC Power shredders allow them to be transported quickly and easily to a suitable location. When choosing a location, also ensure that there is sufficient space to work in.
Never reach into the feed hopper
Never put your hands in the feed of the garden shredder. Both the knife shredder and the roller shredder have sharp knives or rotating rollers in the inner area. If they are not operated properly, they are an incalculable risk and can cause serious injuries. If the chopped material becomes entangled, the shredder must be switched off. The mains plug should also be disconnected and only then should the interfering material be removed. Also, fingers should not reach into the ejection chute until the shredder is disconnected from the power outlet.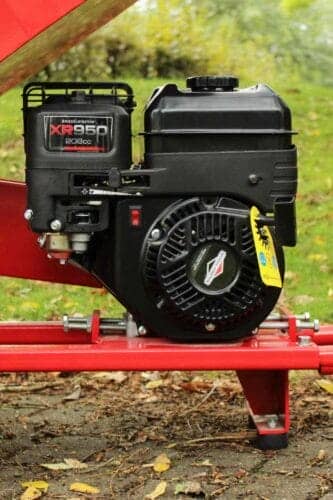 Empty the collection container regularly
The collection container should be emptied regularly during use and the outlet opening should always be kept clear. A material jam can cause the motor to overheat and thus damage the motor. Likewise, collected clippings could fly around uncontrolled and increase the risk of accidents enormously.
The diameter of the shredded material should be checked regularly and only suitable material should be shredded. If the shredded material exceeds the recommended diameter, this can lead to blockages in the mechanism, wedging of the knives and premature blunting of the cut surfaces.
If possible, the unbranched end of the branches should always be pushed into the shaft first. Chopping older and dry wood should be avoided, as this is often harder and more brittle than freshly cut material. Persons, children and pets should keep a certain distance from the shredder due to flying shredded material which poses a risk of accidents and injuries. For the sake of the neighbours, rest periods should be observed or arrangements made. In the rain, you should refrain from working with a shredder and store the machine clean and dry.
With our advice, your shredding material will be shredded quickly and safely and you can enjoy the autumn sun in a relaxed manner. If you have any questions, please contact our customer service.
1.790.00

€
Includes 19% MwSt.
Available as pre-order in approximately 45-60 days.
Delivery Time: approx. 10 workdays
Hard and soft wood processing
13,5 PS strong petrol engine
Knife system
Ejection chute rotatable by 180°
990.00

€
Includes 19% MwSt.
Available as pre-order in approximately 45-60 days.
Delivery Time: approx. 10 workdays
Hard and soft wood processing
6,5 PS strong petrol engine
Knife system
Max. trunk thickness: 80mm for big throw-in
Max. log thickness: 15mm for small throw-in
990.00

€
Includes 19% MwSt.
Delivery Time: approx. 10 workdays
Hard and soft wood processing
6,5 PS strong petrol engine
Knife system
Max. trunk diameter: 40 mm