Slowly but surely, the temperatures climb high, more life returns to the gardens and everything is prepared for cozy evenings on the terrace. Trees and shrubs also need regular care so that they can continue to grow healthily. This care includes, for example, regular pruning. Simply pruning away can have unpleasant consequences, so we've put together some helpful tips here so that pruning goes well and your garden is ready for summer.
First, you should ask yourself the question of the right time. In principle, pruning is possible throughout the year, with different objectives depending on the timing. To avoid unwanted reactions, you should find out about the advantages and disadvantages of winter or summer pruning early on.
Do you want to stimulate wood growth? Then winter pruning, i.e. in the period before the first shoots (January – February), is perfect for your old or small trees. Advantages of this early pruning can be the protection of the tree, a better overview due to the lack of foliage and the stimulation of sprouting in the spring.
However, winter pruning does not only bring advantages, for example, due to low temperatures ( lower than 0 degrees) frost can get into the open areas and damage the tree. In addition, at this time fungal pathogens are active, so there is an increased risk of infection.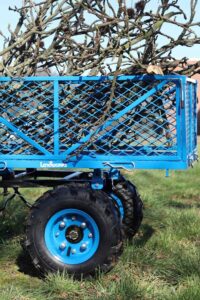 For small, thin branches can simply use pruning shears. For larger branches, on the other hand, you should use loppers. Loppers with a gearbox can usually cut larger branches (more than 3 cm thick branches).
If you want to cut fresh wood you should use the bypass cutting technique. This is a shear in which the blades cut past each other. Thus, a clean cut is made and no branch stubs are left.
If you want to cut back trees with hard or dead wood, the anvil cutting technique is a good choice. This involves pressing the shoots against an abutment, thus crushing them. You should only work with a chainsaw if you have a secure footing and sufficient experience. Otherwise, you should rather leave this task in professional hands.
Which branches should be cut?
Especially superimposed and crossing branches should be removed, as they interfere with each other and prevent growth.
Especially when pruning fruit trees, the removal of crossing branches is relevant, as they prevent the formation of fruit and thus give less yield.
At the same time, all branches that grow too far down or up should be removed.
1. the branches should be cut cleanly at the trunk or at the next side shoot, so that no branch stubs remain. These branch stubs are usually no longer supplied by the tree, which is why they die and become vulnerable to pathogens. 2. cut larger branches piece by piece, in order to ensure your own safety on the one hand, on the other hand there is usually a risk of bark tongues when cutting larger branches. Therefore, you should first cut the branch about two hand widths from the trunk so that tearing of the bark is prevented. The stub left at the end should be cut cleanly at the branch ring. To do this, you can set the saw at a slight angle away from the trunk
Cut wounds are easily attacked by pathogens. To avoid this, always use sharp tools and avoid fraying the wound edges by making clean cuts. If one or the other wound edge is frayed, you can correct this with a sharp knife. With clean cuts, no special wound healing agent is actually necessary.
Disposal of the cut material
Depending on the size and type of the branches, there are different ways to dispose of the cuttings or to reuse them. If the branches are not too thick, they can be processed into wood chips with the help of the chipper.
These can then be added to the compost or used for other purposes in your garden – for example, as mulch. You can read more about what to look for when chipping here.
If you have a fireplace and there are thicker branches among your clippings, you can use them as firewood. To process the wood into firewood, a log splitter is a good choice. Which log splitter would be right for you and how to stack the wood well, you can read here.
A simple alternative is to take the cuttings to a recycling center and simply dispose of them there. Of course, you can also – depending on the amount – leave the cuttings in your garden and thus provide shelter for birds or other animals.
Our HZC Power log splitters
1.990.00

€

– 2.390.00

€

Includes 19% Mehrwertsteuer

Delivery Time: approx. 3-4 workdays
Vertical or horizontal working
25 t splitting force
Petrol engine from Briggs&Stratton (6,5 PS)
Oil filter for a longer service life
Trailer hitch, storage table & protective cover