Rotary tiller / soil hoe / rotary tiller / motor hoe with petrol engine & 800mm working width (AF59)
All plant growth depends on the quality of the soil. Regular tilling or hoeing is part of the optimal care of the soil. You can do this effortlessly and quickly with the garden hoes, tillers and power hoes from HZC Power. The tiller is ideal for preparing the ground for sowing or for weeding. The work is much more pleasant and easier on the back than with a spade. Our rotary tiller is therefore ideal for preparing hard, compacted soil for planting.
The AF59 is equipped with a powerful Briggs&Stratton petrol engine (6.5 hp, 196 cc). Briggs&Stratton offers a worldwide maintenance/repair service for this engine at qualified partner shops.
The easy handling and high-quality chopping blades make working a pleasant affair. The motorised soil hoe reaches a working depth of 175 – 350 mm, on a working width of 800 mm.
Offer for your HZC Power product
At HZC Power we always pay attention to the highest quality, technically flawless processing and robust construction. You will receive our products partially assembled by freight forwarding. We offer you a fixed price for shipping which is automatically generated in the shopping cart (additional shipping information can be found here).
You are welcome to visit our products by appointment at our headquarters (Krefeld, NRW) or at our location near Berlin (14542 Werder) or pick them up free of charge.
If you have further questions about the individual models then please contact our customer service. This advises you gladly further. Convince yourself of our offer and secure your product in the best quality at the best price at HZC Power.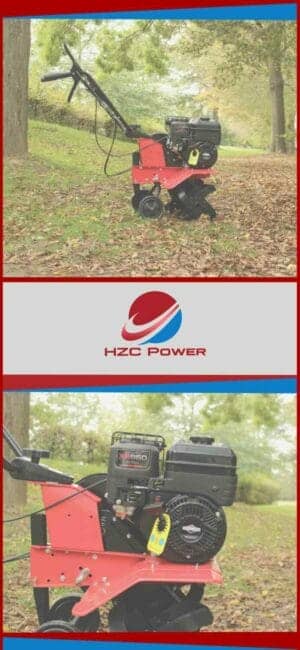 Manufacturer: HZC Power
Brand: HZC Power
Rotation speed: 3600 rpm
Oil capacity: 0.6 l
Fuel capacity: 3.6 l
Working width: 800 mm
Working depth: 175-350 mm
Product weight: 59 kg
Shipping weight: 65 kg
Engine: Briggs & Stratton, 6.5 hp petrol engine, XR950
Model number: 130G
Engine technology: single cylinder, 4-stroke, air cooled, OHV (overhead valve)
Displacement: 208 cc
Cylinder: Cylinder with cast iron sleeve
Bore: 68.3 mm
Stroke: 55.9 mm
Fuel tank capacity: 3.1 l
Oil capacity: 0.6 l
Weight: 16 kg
Dimensions (WxLxH): 321x376x346 mm