Bodenfräse/Bodenhacke/Ackerfräse/Motorhacke mit Benzinmotor & 500mm Arbeitsbreite (AF70)
All plant growth depends on the quality of the soil. Regular tilling or hoeing is part of the optimal care of the soil. You can do this effortlessly and quickly with the garden hoes, tillers and power hoes from HZC Power. The tillers are ideal for preparing the ground for sowing or for weeding. The work is much more pleasant and easier on the back than with a spade. Our rotary tillers are therefore ideal for preparing hard, compacted soil for planting.
The tiller is equipped with a powerful Briggs&Stratton petrol engine (6.5 hp, XR950). The maintenance/repair service set up by Briggs&Stratton in selected partner workshops provides uncomplicated help should problems arise with the powerful engine.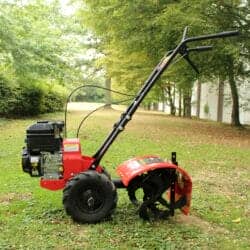 The easy handling and high-quality chopping blades make working a pleasant affair. The motorised soil hoe reaches a working depth of 175 – 350 mm, on a working width of 500 mm.
Angebot für Ihr HZC Power Produkt
Bei HZC Power achten wir stets auf höchste Qualität, technisch einwandfreie Verarbeitung und eine robuste Konstruktion. Unsere Produkte erhalten Sie teilmontiert per Spedition. Dabei bieten wir Ihnen einen Festpreis für den Versand der automatisch im Warenkorb generiert wird (zusätzliche Versandinformationen finden sie hier).
Gerne können Sie unsere Produkte nach Absprache auch in unserer Zentrale (Krefeld, NRW) oder an unserem Standort in der Nähe von Berlin (14542 Werder) besichtigen oder kostenlos abholen.
Sollten Sie weitere Fragen zu den einzelnen Modellen haben dann melden Sie sich gerne bei unserem Kundenservice. Dieser berät Sie gerne weiter. Überzeugen Sie sich selbst von unserem Angebot und sichern Sie sich Ihr Produkt in bester Qualität zum besten Preis bei HZC Power.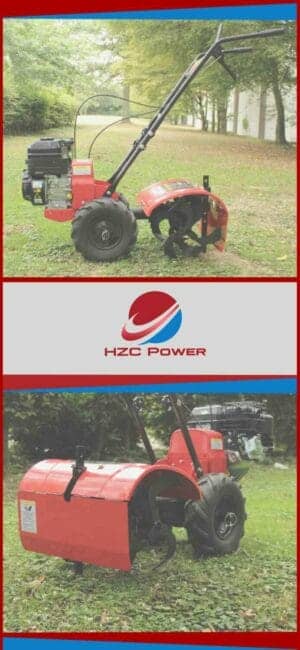 Manufacturer: HZC Power
Model: AK70
Speed: 3600 rpm
Oil capacity: 0.6 l
Fuel capacity: 3.6 l
Working width: 500 mm
Working depth: 175-350 mm
Product weight: 70 kg
Shipping weight: 80 kg
Engine: Briggs & Stratton, 6.5 hp petrol engine, XR950
Model number: 130G
Engine technology: single cylinder, 4-stroke, air cooled, OHV (overhead valve)
Displacement: 208 cc
Cylinder: Cylinder with cast iron sleeve
Bore: 68.3 mm
Stroke: 55.9 mm
Fuel tank capacity: 3.1 l
Oil capacity: 0.6 l
Weight: 16 kg
Dimensions (WxLxH): 321x376x346 mm